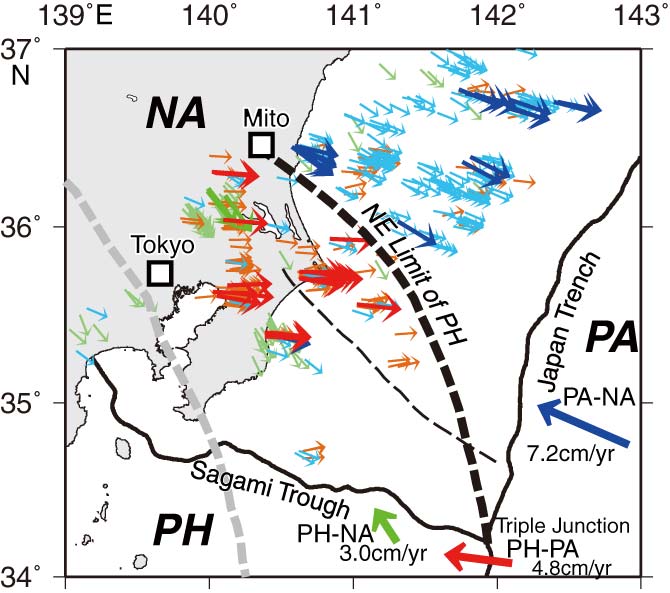 Latitude and longitude data of the line EPSL2009NElimit.txt [0.4 KB]
(Black broken line in the figure)
Reference: Uchida, N., J. Nakajima, A. Hasegawa, and T. Matsuzawa, What controls interplate coupling?: Evidence for abrupt change in coupling across a border between two overlying plates in the NE Japan subduction zone, Earth Planet. Sci. Lett., 283, 111-121, 2009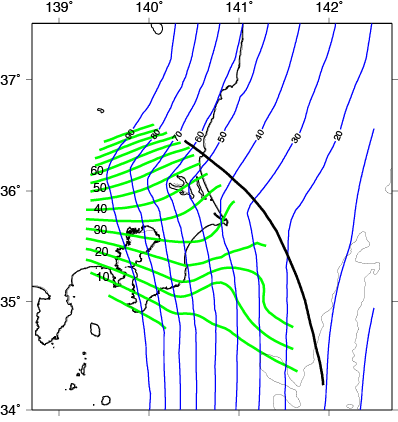 Reference:
[Philippine Sea plate in the offshore area] Ito, A., T. Tonegawa, N. Uchida, Y. Yamamoto, D. Suetsugu, R. Hino, H. Sugioka, K. Obana, K. Nakahigashi, and M. Shinohara, Configuration and structure of the Philippine Sea Plate off Boso, Japan: constraints on the shallow subduction kinematics, seismicity, and slow slip events, Earth, Planets and Space, 71(1), doi:10.1186/s40623-019-1090-y, 2019.
[Philippine Sea plate in the land area and Pacific plate] Uchida, N., T. Matsuzawa, J. Nakajima, and A. Hasegawa, Subduction of a wedge-shaped Philippine Sea plate beneath Kanto, central Japan, estimated from converted waves and small repeating earthquakes, J. Geophys. Res., 115(B07309), doi:10.1029/2009JB006962, 2010.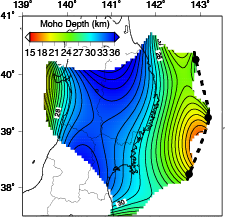 Reference: Uchida, N., S. H. Kirby, T. Okada, R. Hino, and A. Hasegawa, Supraslab earthquake clusters above the subduction plate boundary offshore Sanriku, northeastern Japan: Seismogenesis in a graveyard of detached seamounts?, J. Geophys. Res., 115, doi:10.1029/2009JB006797, 2010.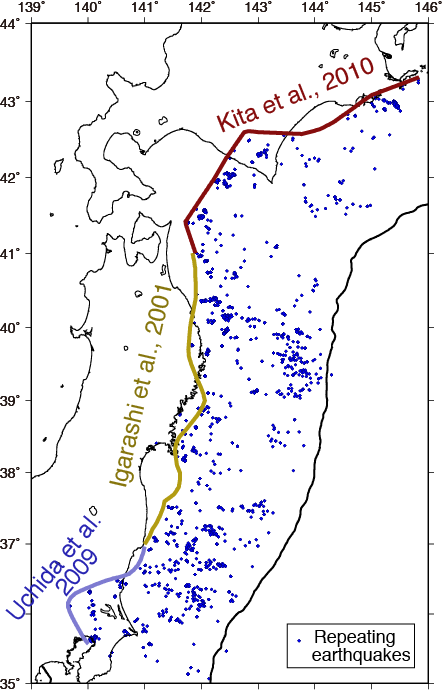 The latitude and longitude of the line limit.tar.gz [0.7 KB]
References:
[Hokkaido] Kita, S., T. Okada, A. Hasegawa, J. Nakajima, and T. Matsuzawa, Anomalous deepening of a seismic belt in the upper-plane of the double seismic zone in the Pacific slab beneath the Hokkaido corner: Possible evidence for thermal shielding caused by subducted forearc crust materials, Earth Planet. Science Lett., 290, 415-426, 2010.
[Tohoku] Igarashi, T., Matsuzawa, T., Umino, N., and Hasegawa, A., Spatial distribution of focal mechanisms for interplate and intraplate earthquakes associated with the subducting Pacific plate beneath the northeastern Japan arc: A triple‐planed deep seismic zone, J. Geophys. Res., 106( B2), 2177-2191, doi:10.1029/2000JB900386, 2001. 
[Kanto]: Uchida, N., J. Nakajima, A. Hasegawa, and T. Matsuzawa, What controls interplate coupling?: Evidence for abrupt change in coupling across a border between two overlying plates in the NE Japan subduction zone, Earth Planet. Sci. Lett., 283, 111-121, 2009.